Hilton Honors Gold Status offers some decent benefits but a lot of people might wonder whether or not it's worth it to pursue obtaining Gold Status and if the perks will benefit them. Here's a look at all of the different Hilton Gold benefits and some insight to help you decide if it's something you might benefit from. 
Hilton Gold Benefits
---
How to get Hilton Honors Gold status
You can achieve Honors Gold Status the hard way or the easy way. 
The hard way
The hard way is by physically staying in Hilton properties. Frequent business travelers aside, it will likely be difficult for the average traveler to achieve status with stays.
You'd have to meet the following criteria:
20 stays in a calendar year, or

40 nights in a calendar year, or

75,000 Honors Base Points in a calendar year
The easy way
I highly recommend utilizing credit cards to obtain Hilton Honors Gold Status because it's really easy to do. Three credit cards that will have you covered for Gold Honors status are:
Citi® Hilton Honors™ Reserve Card

(no longer available)
Status matches and challenges
You can also utilize status matches and challenges to earn Hilton Honors Gold status. These typically require you to have a certain level of status with another hotel loyalty program and proof that you've stayed with that hotel in the past year.
After you show that, you'll often be matched with a corresponding level of Hilton Honors status. For example, IHG Platinum status will often earn you Hilton Honors Diamond status. Sometimes you'll be able to keep that status without doing anything but other times you'll need to book some Hilton stays in order to retain the status.
---
The Hilton Honors benefits
Two valuable Hilton Honors benefits are the fifth night free and complimentary internet. These benefits are also offered to Hilton Honors Silver Members but I just wanted to cover these two since they can be pretty valuable. 
5th night free
Silver, Gold and Diamond elite members will receive every 5th night free on Standard Room Reward stays of 5 nights or more.
With this benefit you have to think about if your particular travel style will benefit from this perk. I know a lot of travelers (myself included) who rarely, if ever, stay in the same location for more than 4 nights when they travel. If you fall into that category then you obviously should value this perk accordingly. 
Complimentary internet
Complimentary in-room and lobby Standard Internet access during stays at Waldorf Astoria™ Hotels & Resorts, Conrad® Hotels & Resorts, Curio – A Collection by Hilton, Hilton Hotels & Resorts, DoubleTree by Hilton™, Canopy™ by Hilton, Embassy Suites Hotels™ and Hilton Grand Vacations.
This is yet another nice perk but it's offered to Silver Status holders so you're not getting anything exclusive internet-wise by being a Gold Member.
If you make your way to Diamond Status, the difference is that you're given premium internet in the lobby and your room. In my experience, the difference in speed varies hotel to hotel and for most purposes, the complimentary standard internet has been sufficient for me. 
---
The Hilton Honors Gold benefits
Now, we'll talk about benefits that the Silver Members don't get.
25% elite status bonus
With Gold elite status, you automatically receive a 25% bonus on all the Honors Base Points you earn.
This is a decent benefit but given the weak value of Honors points, it's not exactly something I'd consider a "top" benefit. 
Compared to other major hotel loyalty programs, this 25% bonus for mid-tier status amounts to a 7% return based on a point valuation of .4 cents per point which is below Marriott, SPG, IHG, and Hyatt. With a more generous valuation of .5 or .6 cents per point, however, the return value is much more competitive.
Still, extra points are always nice and Hilton runs many lucrative promotions that make earning Honors points probably easier than any other program (like when they offered triple the points to Hilton Honors Diamond members, allowing for returns of 16% or more).
Complimentary Breakfast
Breakfast is probably one of the best Hilton Gold benefits. Complimentary breakfasts for Gold Members are offered at the following Hilton hotels:
Conrad Hotels & Resorts, Curio – A Collection by Hilton
Hilton Hotels & Resorts
DoubleTree by Hilton
Keep in mind that many hotels usually offer complimentary breakfasts to all guests, such as Homewood Suites, Hampton Inns, etc. While Marriott offers breakfast for it's mid-tier Gold status, breakfast is not offered for SPG Gold or Hyatt Explorist (club lounge upgrades aside). 
One thing I've learned is that when it comes to hotels, not all breakfasts are created equally. Sometimes you'll get a full breakfast with eggs, bacon, waffles, and everything else you'd like served up at a hotel restaurant and other times you might get stuck with a more basic breakfast fixing but with an option to upgrade to something better (sometimes with a discount).
While the specific type of breakfast offered sometimes depends on your location, getting a complimentary breakfast is still usually a worthwhile benefit and good way to save some cash.
Upgrades
Hilton states that with Gold Status, you're eligible for upgrades at the following hotels:
Waldorf Astoria™ Hotels & Resorts
Conrad® Hotels & Resorts, Curio – A Collection by Hilton
Hilton Hotels & Resorts
DoubleTree by Hilton™
Although the terms and conditions only explicitly reference the hotels above, you're not limited to just these hotels for upgrades. I've stayed in Hilton hotels not on this list that have given me upgrades specifically because of my Gold Status. So while Hilton doesn't list them on their website, I believe you should always inquire about upgrades if you have Gold Status.
Second, for these upgrades, Hilton excludes "executive suites, villas and specialty accommodations […] subject to the discretion of the hotel." Thus, although upgrades to such suites will be more likely to happen when you have Hilton Honors Diamond Status, hotels can certainly still provide you with upgrades to suites with mere Gold Status.
Executive Floor Lounge Access Policy
While Diamond Members are granted access to the executive lounges, Gold Members are only given these privileges when they "receive a room upgrade to the Executive Floor or an upgrade to a room type that confers Executive Floor Lounge access benefits."
However, you'll still be able to get your complimentary breakfast in many of the hotels, so I wouldn't stress too much over the lack of lounge access. In fact, sometimes the breakfast offered in the lounge isn't even on the same level as the breakfast offered by the restaurant (where you get it on a complimentary basis).
Thus, for many people, having breakfast comped is enough to satisfy them and lounge access isn't a deal breaker.
Members with Gold status receive all the benefits in the lower tiers
Here's a breakdown of more of the benefits not mentioned that are given to all members: 
Guaranteed Discount: A discounted, changeable & refundable rate is exclusively available for Hilton Honors members.

Digital Check-In: choose your room, and customize your stay from your mobile device up to 24 hours in advance.

Quick reservations and check-ins based on your room preferences

Late check-out

Express check-out

2nd Guest stays free

Complimentary access to fitness centers and health clubs

Two complimentary bottles of water per stay (at Waldorf Astoria™ Hotels & Resorts, Conrad® Hotels & Resorts, Curio – A Collection by Hilton, Hilton Hotels & Resorts, DoubleTree by Hilton™, Embassy Suites Hotels™, Hilton Garden Inn™ and Hilton Grand Vacations™ hotels)1
---
Hotel-specific benefits
And finally, here's a look at some of the hotel-specificHilton Gold benefits.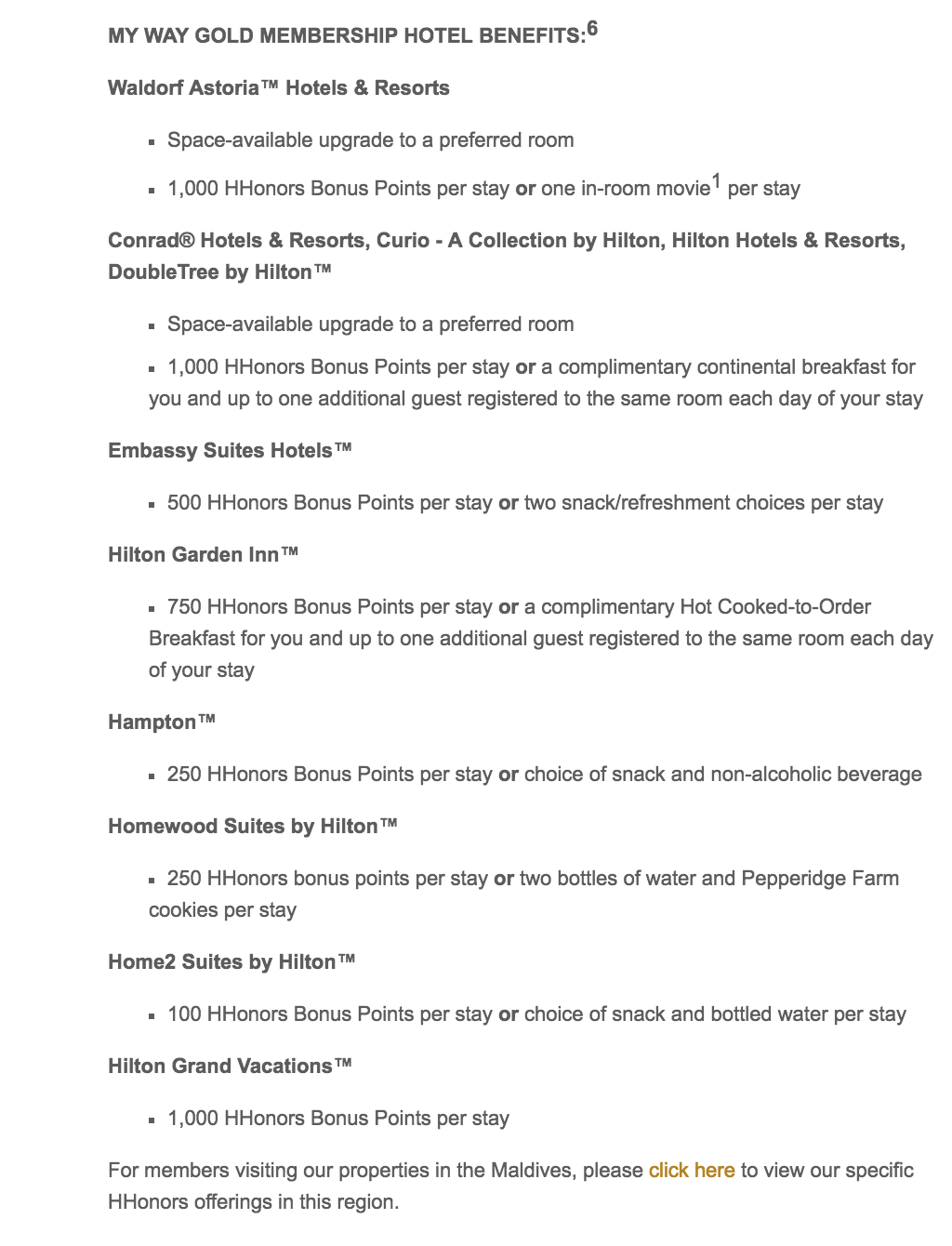 ---
Final Word
Hilton Gold benefits can consist of solid perks like complimentary breakfasts and potential upgrades (in addition to all of the other basic benefits). I still think I prefer Marriott Gold as my primary mid-tier status, but considering that Hilton Honors Gold is easier to achieve and comes with some good perks, it's still one of the best mid-tier statuses in my opinion.